NEQP May 1-2, 2021 – My mobile operation
By Leandra MacLennan, AF1R/m
I did OK in last year's New England QSO Party (NEQP) – 3rd place Norfolk county (Massachusetts), Single Op Low Power – but Norfolk county is well-populated with hams and not a rare one. And, I don't have a good antenna on my tiny suburban lot in the suburbs of Boston. I thought it might be fun to see what it would be like to hand out a rare county to appreciative contestants.
Maine was a little too far to go for a weekend, but upstate Vermont and New Hampshire had a couple of rare counties and were close enough for the drive not to take a substantial part of the weekend. Last year there were no QSOs made from Essex county in the Northeast Kingdom of Vermont, and only two QSOs from Orange county Vermont.
My first thought was to operate from one of the rare counties, renting a place in one of these counties for the weekend, but a quick search for an Airbnb did not turn up many listings. And, I would need to make sure I could string antennas around the property. Too much work and uncertainty.
All winter I've been activating Parks On The Air (POTA) from my car with Hamsticks and Wolf River Coils antennas on a mag mount. Maybe I could be a mobile station for the weekend: stay in a hotel or B&B in Vermont on Saturday night, so I could drive up to central Vermont on Saturday, activate one of the central Vermont counties on Saturday night, and continue to loop around northern Vermont and New Hampshire on Sunday. Unfortunately, I discovered Vermont is only allowing fully vaccinated guests to stay overnight in a hotel or B&B. I would not get my second shot until the end of May. So much for a two-day tour through Northern New England.
OK, how about an alternate plan? I scaled down the goals to make it doable. Drive up to Vermont, and back in the same day, with the goal of activating two counties in Vermont and a couple of counties in New Hampshire. A lot of driving but it looked like I could make it work. My target would be to activate Orange county in east-central Vermont which was just a short drive north from where I-89 crosses into Vermont from New Hampshire. Only 2 ½ hours away if I drove non-stop!
So, the plan was coming together. I'll do a shakedown drive around a couple of Massachusetts counties on Saturday, the short day of the NEQP, to see if I had the car set up correctly, then on Sunday, if the weather cooperated, do the drive up to Vermont and back.
On Saturday afternoon before the start of NEQP, I set the Wolf River Coil taps for 40M and 80M and checked the setscrew location for the hamsticks. I spent the remainder of the afternoon before the contest on the computer plotting my route for Sunday and investigating possible POTA locations. There was a POTA park in the southernmost town in Orange county. I could double-dip, and get POTA credit for activating the park while giving out QSOs for Orange county! And there was another POTA location in Windsor county Vermont, the next county south! I got so involved on the computer scouting for potential POTA locations, I wasn't paying attention to the clock and all of a sudden noticed it was 5:00 P.M., an hour into the contest. I hustled to get the radio wired into the car and leave as soon as possible.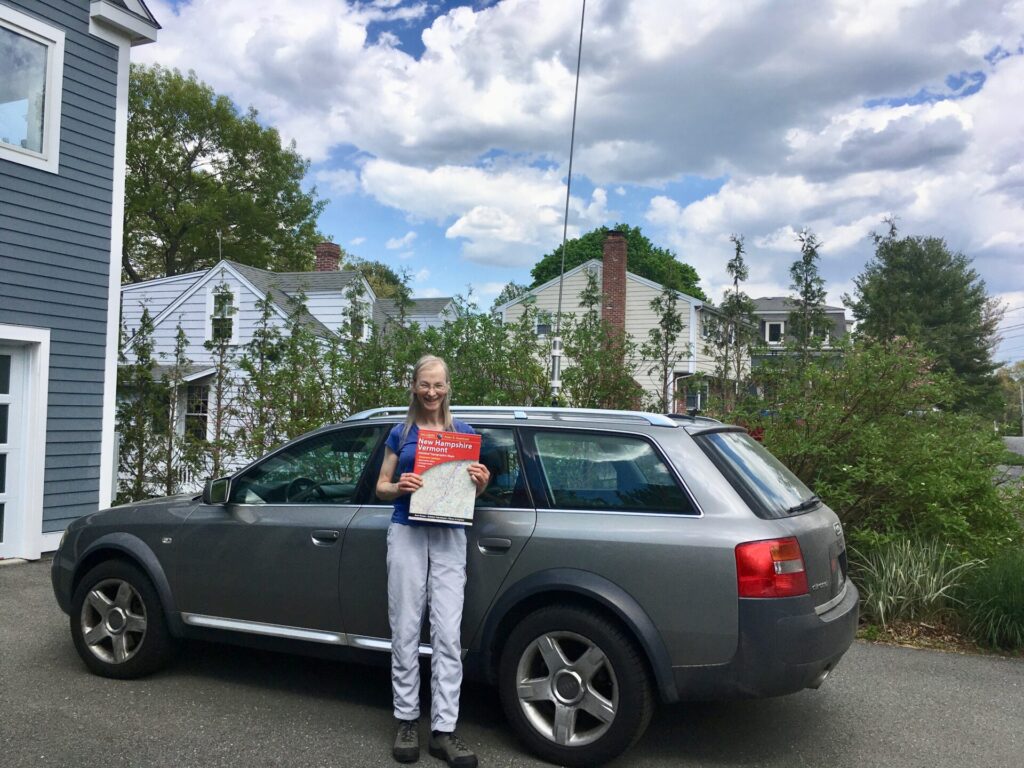 In last year's contest, only 47 QSOs were made from Suffolk county, MA (Boston!). My plan for Saturday was to activate Suffolk county, and head to Natick in Middlesex county, then back to my home county, Norfolk.
I had been searching for new POTA locations to activate in Boston, but I spent too much time on the computer and now I was going to get a late start.
5:00 P.M. I'm an hour late getting started. Instead of driving across Boston to activate a POTA, I needed an alternative Suffolk county location that was close by. Home Depot in West Roxbury! It was only 20 minutes away.
6:00 P.M. Left my house. Now 2 hours late.
6:30 P.M. I parked in the far corner of the Home Depot parking lot and put the 40M Wolf River Coil and 8-foot whip on the mag mount. It started slow. I put out three CQs with no response. I finally got one call, then another, then got a pileup. I was watching the clock because I wanted to be in Natick in Middlesex county (30-minute drive plus a 15 minute stop at my house on the way) by 8:00 P.M. to check into the Saturday night Special Net on 28.305, but every time I said over the air I was making my last call, I'd get a pile-up, and gave them a contact! I finally got a break and shut down. Made 25 SSB QSOs in 30 minutes.
7:45 P.M. Made it to the parking lot at New England Sci-Tech (NEST) in Natick (Middlesex county). Put the 10M Hamstick on the mag mount, and just as I turned on my radio, I heard Joe, W1HAI starting up the 10M net. I joined the net and made official contest QSOs with the stations in the net when it was over. (Thank you Barb, KC1KGS!) I stayed on the hill for another hour to work 80M and 40M. I struggled to make 80M QSOs with the 8-foot whip and after spending 30 frustrating minutes to make just 3 QSOs switched to 40M. I gave out 16 SSB QSOs from Middlesex county
11:30 P.M. Went back home and parked in my driveway (Norfolk county). Had a quick bite to eat, then got back in my car to work the contest from my driveway. It took some work, but I got Arizona, Nevada, and Washington state on 40M. Made 7 QSOs in 35 minutes.
8:00 A.M. Sunday. Got up and had breakfast. I had a long day of driving ahead so I wanted to get a reasonable amount of sleep on Saturday night.
9:00 A.M. Left my house and headed for Vermont.
10:45 A.M. I stopped at the rest area in Bow NH (Merrimack county). I put the 20M Hamstick on the car and tried making a few QSOs. I really had to work to make just 4 QSOs in 27 minutes. I seemed to be spending a lot of work for little return. I hoped this would not be what I would need to do for the remainder of the day.
11:15 A.M. I resumed my drive up I-89 in NH
12:15 P.M. Stopped at the next rest area on I-89 north (Sullivan county). This one was up high and had a spectacular view to the northwest, the opposite of the rest area in Bow. I was much more productive here and made 12 QSOs in 15 minutes. I heard another station also giving out QSOs from Sullivan county, so I didn't see the need to stay here for long to give out Sullivan county QSOs. And it was already 12:30 P.M. I still needed to get to Orange county Vermont. My GPS said the POTA park in Thetford, Vermont was 50 minutes away.
1:00 P.M. On my way to Thetford, I saw a sign on I-91 confirming I crossed the line into Orange county, Vermont. I was officially in Orange county!
1:10 P.M. I easily found Thetford Hill State Park, park number K-3147. But the parking area was below the crest of the nearby hill and I had to park with the car pointed downhill, which meant that my 20 meter Hamstick antenna on the car would be tilted, too, and not be vertical. I was not optimistic about my ability to make the minimum 10 QSOs to activate the park.
1:15 P.M. It was late in the day, and I was in a rush to get on the air. I did not spot myself on the POTA webpage. Made three SSB CQs and no response. I'm in a rare Vermont county. Doesn't anyone want to work me? I'm beginning to think I need to spot myself. On my fourth CQ, WA1FCN, who was my last contact at my previous county, worked me for my first contact. 9 more to go. It took 6 minutes to work the next 3 SSB QSOs. I was still wondering if I could make 10 QSOs in this RF "poor" location with my Hamstick at a crazy angle. The fourth station I worked, NV9L, Val, told me she had just spotted me on one of the spotting lists. A minute later I was working a pile-up. Thank You Val! In the next 25 minutes, I worked them as fast as I could type them into my laptop balanced on my knee. I got my 10 QSOs and more! When the pileup slowed, I drove to what I thought was a better location up the hill. But I didn't make many QSOs up there on 20 meters and switched antennas to 40 meters. I was able to make 4 more QSOs. Last year there were only 2 QSOs made in Orange county, Vermont. This year there will be at least 36 SSB QSOs from Orange county.
3:00 P.M. Still 5 more hours of the contest remaining. Where to go? There was another POTA park near Norwich, Vermont, 20 miles south. It was in Windsor county, not a rare county (last year there were 871 QSOs), but it was another Vermont county and another chance for me to double-dip and activate a second POTA park and give out a Vermont county. Norwich was one exit south on I-91.
3:20 P.M. I pulled off at the exit for Norwich, Vermont. I told myself I would stop at the first opportunity to buy some real food. Since my breakfast at 8:30 A.M., I had only eaten two oranges and 3 applesauce packets. I discovered the amazing general store and gas station in Norwich, Vermont. The sign out front says if they don't have it then you don't need it. It was true. The general store lived up to its name: it had everything: fresh fruit, a deli counter, ammunition, small kitchen appliances, hardware, and clothing. Bought a sandwich, ate half of it, filled up the car with gas, and drove 15 miles to the POTA park.
4:15 P.M. The parking at this park was even worse than the last park. My car was pointed steeply downhill, and I was in a valley surrounded by hills. There was no cell phone service. I tried the 20 meter Hamstick. I called CQ over and over and made 3 QSOs in 18 minutes. I was beginning to think I was not going to make my 10 QSOs to officially activate this park. Before I left, though, I thought I would try the 40 meter antenna. I had good results with it on Saturday and thought it might be able to do some magic for me. And it did! 40 meters was just starting to open, and I called CQ POTA and CQ NEQP. I had to work for them, but the calls slowly came in. Many of them wanted both Windsor county and the park for POTA credit. It was rewarding to hear one of them comment to me, "Thank you for Windsor county, I haven't heard many other Vermont counties". I gave out 24 Windsor county SSB QSOs in an hour.
5:30 P.M. OK, where to next? 2 ½ hours of the contest remaining. I looked carefully at the road map and discovered Lebanon, NH, the next town east, and on my way home, was in Grafton county, NH. Another new county for me! I guessed the Lebanon airport terminal would be a high and clear location, found the address on the web, and typed it into the GPS. Only 6 miles away!
6:10 P.M. The airport terminal was easy to find and had a large parking lot, and was on top of a hill. Good location! I logged a steady flow of QSOs from my CQs on 40M, but I was watching the clock. I wanted to do one more county, before the end of the contest, and the easiest place would be the first rest area southbound on I-89, about 25 minutes away. At the Lebanon airport, at 6:50 P.M. I said I was making my last CQ call, then I got a pileup of three stations, and worked them. I did another "last call" CQ and got a pileup. I worked them and made another "last call" CQ and got two stations. I worked them and announced I was moving on to my next location. I made 16 SSB contacts from Grafton county NH.
7:10 P.M. Left the Lebanon Airport and headed south on I-89. I figured the I-89 rest area would be 25 minutes away. I was watching the time in the contest disappearing.
7:35 P.M. Pulled into the rest area (now back in Merrimack county NH).
7:40 P.M. OK, put the 40 meter coil and whip on the mag mount. Oh, 40 meters was crowded now. I tried calling one of the stations who was CQing. The meter in my radio showed High-SWR! The SWR meter was maxing out in the red! I just used this antenna 25 minutes ago. What could be wrong with it? I got out of the car and looked at it in the dim light. It looked fine. Maybe it was the whip. Sometimes I miss pulling out a section of the telescoping whip. It was dark and I could not see it well. I took it off and pulled on all of the sections. Sure enough, there was one additional section of the whip that pulled out. OK, the clock was ticking. Screw the whip back in. Jump back in the car. Did I fix the SWR problem? I anxiously did a quick check. Yup, the SWR was back down to normal.
7:46 P.M. The general class section of 40 meters is packed. Where can I find a spot to call CQ? Nothing at the lower end, how about the high end, past the shortwave broadcast stations. Maybe someone will find me up there.
7:54 P.M. Found a clear spot and started calling CQ. At my third CQ, I got a contact. I worked 7 stations in the next 4 minutes. I called CQ one more time. No answer.
7:59 P.M., time's up, the contest is over. Two hour drive to get home.
10:00 P.M. Arrived home.
Final results
Operated from:
3 Massachusetts counties
3 New Hampshire counties
2 Vermont counties
For a total of 8 counties
155 US and Canada SSB QSOs
1 Europe contact
Equipment
Icom IC-7300
40 AH Bioenno battery
10M hamstick
20M hamstick
Wolf River Coils large coil, with 2 taps
NMO mag mount
NMO to 3/8 adaptor
8 foot collapsing whip for Wolf River Coil loading coil
Laptop computer
12V charger for laptop computer
Here is what was consumed:
400 miles of driving
7 hours of driving time
24 Amp-hours from my 40 Amp-hour 12V Bioenno battery (running the radio and charging my laptop)
4 applesauce packets
4 oatmeal-raisin cookies
3 oranges
1 Turkey sandwich
1 bottle of orange juice
– Leandra, AF1R/m